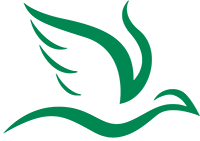 Interment Regulations
Natural Materials and Embalming
Interred bodies must either have not been embalmed or were embalmed with non-toxic chemicals approved by the Green Burial Council or equivalent environmental standards such as the Enigma product by Champion. The body must arrive at the cemetery properly prepared.

Outer Burial Containers (partial, inverted or otherwise) manufactured of any material (e.g. concrete, plastic, metal), concrete lids, concrete boxes, slabs or partitioned liners are prohibited.

Burial containers (Caskets, Shrouds, etc.) must fit the grave opening and be made entirely from natural/plant derived materials and, when possible, locally produced using sustainable practices. Leaking burial containers are not accepted.

All materials interred with the bodies must be biodegradable except for prosthetics, implants, false teeth, dental fillings, and nontoxic jewelry. Artificial flowers are not permitted
Payment and Burial Authorization
All Cemetery charges and fees for Interment Rights and Interment services shall be paid in full before an Interment is made.
Prior to permitting any Interment with the Cemetery, the Cemetery shall require the written authorization of the Owner of the Interment Rights, or the next-of-kin of the deceased, their authorized representative or agent for body disposition appointed by the deceased.
The Cemetery relies upon the identification of the deceased provided by the next-of-kin or authorized representative, and shall have no obligation to independently establish or verify the identity of the remains to be interred.
The Cemetery shall be provided with 48 hours of advance notice of a pending Interment.
Interment Scheduling
We are closed to interments on Christmas Day. All Interments shall be completed by 3 p.m.
All funerals upon reaching the Cemetery shall be under the supervision of the Cemetery. The Cemetery shall have the right to refuse to proceed with the Interment unless all necessary fees, permits and authorizations are delivered to the Cemetery Office or Cemetery-designated funeral escort.
Funerals
The Cemetery may require all persons attending a Burial to remain at a safe distance, a minimum of 10 feet, from power equipment during the Interment. Only personnel authorized by the Cemetery shall perform Interments within the Cemetery.